便携式pH / mV测量套件Mettler Toledo SevenCompact S2-Field-Kit(30207951)
Parameter: pH; ORP

Channel: Single-channel
Version kit: Ready-to-measure kit
Sensor: InLab Expert Go-ISM
pH measuring range: -2 – 20
pH resolution: 0.01; 0.1
pH accuracy : (±) 0.01
mV measuring range: 0
mV resolution: 1
mV accuracy: (±) 1
Temperature Range: -5 °C – 105 °C
Temperature resolution: 0.1 °C
Temperature accuracy : (±) 0.5 °C
Portable: Yes
ISM support: Yes
Memory size: 200 measurements
Protection Rating: Watertight and dustproof (IP67)
Seven2Go pH meter S2-Field-Kit
Everywhere you Measure pH.
Seven2Go S2 Field Kit; pH/mV Portable Meter Kit with InLab Expert Go-ISM and uGo carrying case
Fast, quality data on the go
Seven2Go's simplified menu, automatic sensor recognition and calibration reminder ensure users obtain high-quality data, fast.
Comfortable One-Handed Operation
Seven2Go's easy-to-reach, hardkey buttons and sleek design ensure comfortable one-handed operation even under wet conditions and prolonged use.
Rugged investment that lasts
Seven2Go's IP67 design, reduced weight and rugged uGo carrying case ensure a lasting instrument which provides reliable data even under harsh conditions.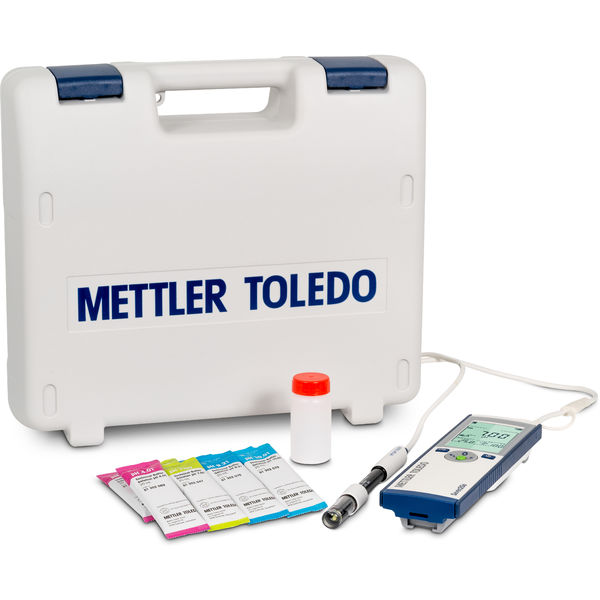 Simple Menu – Intuitive Operation
Seven2Go's new intuitive menu guarantees out-of-the-box operation for everyone. Users no longer need to study lengthy operating instructions
T-pad – Comfortable, Fast Navigation
Seven2Go's new T-Pad improves the speed with which you move through menus. The smart button arrangement allows for faster navigation that gets you to the actual measurement quicker.

ISM® Ready – Less Chance of Error
Upon connection of any InLab ISM® (Intelligent Sensor Management) sensor, the instrument automatically recognises the sensor and stores the sensor ID, serial number and last calibration data.