Brochure

MT9090A Mainframe - MU909060A1/A2/A3 Gigabit Ethernet Module
Operations Manual

MU909060A GigE Operation Example Screen Map


MU909060A Series Gigabit Ethernet Module Operation Manual


Quick Guide MU909060A Series Gigabit Ethernet Module
Features
Versatile, purpose-built solution for Gigabit Ethernet field testing

Comprehensive Ethernet testing for installation, maintenance and troubleshooting

Ping test, traceroute test and Electrical cable diagnostics

Two ports simultaneously work for shortening multiple ports installation, including pass through test and in-line monitoring test

Option for automated ITU-T Y.1564 testing, simultaneously testing of multiple traffic streams emulating real world networks

Option for automated RFC 2544 testing

Test Automator simplifies operation and ensure proper set-up

Channel Stats option identifies error streams, top talkers and network attack

Service disruption time measurement to test the performance of realtime applications like voIP and IPTV

Pass/Fail identification and graphical result display

Pdf and CSV report generation for documentation of test results

High resolution, widescreen color display that is easy to read indoors or out

Rugged design provides years of service for the users

Modular platform ensures maximum return on investment

Compact and lightweight design for maximum portability in the field

High performance without a high price
Description
When outfitted with the Gigabit Ethernet module, the very compact battery-powered, easy-to-use Anritsu Network Master is a comprehensive solution for Gigabit Ethernet testing and for installation and troubleshooting Ethernet communication lines.
The instrument gives the user facilities for easy bandwidth verification, connectivity testing and service availability verification. The compact size and light weight of the instrument makes it very easy to carry around for field technicians working with the Ethernet lines. Despite the small size, the instrument is equipped with a large display so the user can easily read and interpret information from the tested lines off the large color display with easy-to-understand colors and graphical symbols. The graphical user interface also makes it a simple task to configure and operate the instrument.
Funtions

Designed for Field Operations
---
The Network Master Gigabit Ethernet tester is purpose built for testing Ethernet links in the field. Its hardware and user interface are optimized for simplicity, making it easy to use for any skill level, and it is rugged enough to function in harsh environments.
Quick Startup
The Network Master Gigabit Ethernet tester is ready for measurement in about 15 seconds so productive work can start immediately.

Long Battery Life
Since AC power is not always available where you need it, the Network Master Gigabit Ethernet tester provides up to 3 hours of testing on a single charge, depending on configuration and setup. This coupled with an optional car cigarette lighter cord guarantees the instrument is ready when you are.

Portable
With its lightweight design and user friendly dimensions, the Network Master Gigabit Ethernet tester is perfect for the outside plant environment and can easily be managed with one hand. The standard softcase with shoulder strap further increases portability when traveling from the truck to the testing site.

Rugged
With no fans or vents to allow dust and moisture to enter the unit, the Network Master Gigabit Ethernet tester was designed for the challenging outside plant environment.

4.3-inch Wide Screen Display for Easy Viewing
The high resolution, full color, 4.3-inch wide screen display is the perfect format for viewing Ethernet measurement results. It also provides excellent readability both indoors and outdoors.

MU909060A1

MU909060A2

MU909060A3

No Experience Required
The expertise is built into the Network Master Gigabit Ethernet tester. With its Test Automator and PASS/FAIL indicators the instrument makes it easy to test and troubleshoot Ethernet connections.


① 4.3-inch high resolution, Indoor/Outdoor color display
② Dedicated function keys for performing tasks
③ Start key for fast testing
④ Arrow keys for cursor movement and menu navigation
⑤ Set to Select/Accept
⑥ Menu key for easy access to set-ups and mass storage
⑦ Ethernet test port A
⑧ Ethernet test port B
⑨ USB port for connecting to PC Type B (mini USB)
⑩ USB port for connecting to thumb drive and USB-Ethernet
converter Type A
---
Designed for Network Activation
---
For installation, commissioning and QoS verification the Network Master Gigabit Ethernet tester provides powerful and flexible traffic generation capabilities, allowing you to easily test the network under various conditions, including generation of VLAN tagged traffic. The instrument also provides facilities for BER testing of the lines, performance statistics and QoS statistics.

Installation and Maintenance Simplified
Since the Network Master Gigabit Ethernet tester is purposely built for easy testing of Ethernet links in the field, its hardware and user interface are optimized for simplicity. The instrument is easy to setup using its keys and screen. The user can also store setups relevant for a given application and via a USB port distribute the setup to other instruments with the Gigabit Ethernet module. A Test Automator is provided making it easy to set up a sequence of tests.



The Test Automator makes it easy to set up a sequence of tests




Report Generation
With the powerful and flexible report generator you can create .pdf or .csv files for selected measurement results. With these files you can provide professional documentation of test results to your customers.

PASS/FAIL indication, Graphical Display
The result can be checked not only value but also PASS/FAIL indicator and Graphical Display

Y.1564 Test Option
ITU-T Y.1564 is a new test methodology for bring Ethernet networks into service, simultaneously completing multiple traffic streams. RFC 2544 commonly use today completes tests in a serial manner never running all traffic streams at the same time. ITU-T Y.1564 completes this testing in two phases:
- Service Configuration Test, confirms the end to end configuration while quickly checking the Information Rate (IR), Frame Delay Variation (FDV), Frame Loss Ratio (FLR), Frame Loss Ration at the Service Acceptance Criteria (FLRSAC), Committed Burst Size (CBS) and Excess Burst Size (EBS) sequentially for all configured traffic streams.
- Service Performance Test transmits all configured traffic streams simultaneously at the CIR confirming all traffic is able to transverse the network under full load while checking the following IR, FDV, FLR and Availability (AVAIL).
This two phase approach reduces total testing time.

RFC 2544 Test Option
With the RFC 2544 test option, testing of throughput and frame loss, latency, packet jitter and burstability is straightforward. The Network Master Gigabit Ethernet tester automates the testing procedure while still allowing you to configure the test to be as thorough as needed. To get full information on the performance of both sides of a line, the end-to-end test mode allows two Network Master Gigabit Ethernet testers to work together in a master-slave setup whereby the user can control both units and inspect the results of the test from both units on the master instrument.

Multistream Option
The Ethernet Multistream option for the Network Master Gigabit Ethernet tester allows testing a congested networks ability to transport high priority traffic rather than lower priority traffic. The user can activate up to 8 streams with different priority settings on the Ethernet line and detect how they are affected by frame loss through the network.
---
Simplifying Maintenance and Troubleshooting
---
The Network Master Gigabit Ethernet tester has maintenance and troubleshooting application in 800 g pocketable package.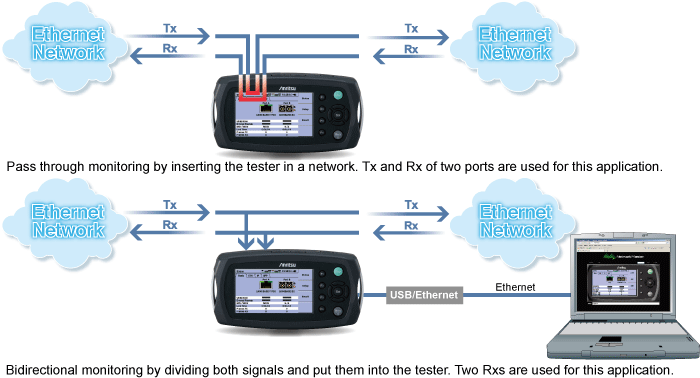 Channel Stats (Option)
Up to 63 streams can be selected by the filter of Source/Destination addresses, VLAN, MPLS. Those streams can be monitored and displayed in detailed information. It is useful to identify the error streams, top talkers and network attack.
Simultaneous Two Ports Monitoring
Network Master Gigabit Ethernet tester has two ports and they can be used simultaneously. It saves the test time for multiple ports deployment. It is possible to support identification of issues in the network by pass through monitoring and bidirectional monitoring.

Remote GUI Option
Network Master Gigabit Ethernet tester can be operated remotely from the far end operation center using a Web browser. USB-Ethernet Converter (option) connects the Network Master Gigabit Ethernet tester with Ethernet for remote control.

Option
Below is a list of options to be included with MT9090A, the mainframe and MU909060A1/2/3, the selected GigE module.
Option
Description
Option Ordering Number
("x" depends on
MU909060A P/N)
Option 001
RFC 2544 Test
Including End-To-End testing with master/slave control
MU909060Ax-001
Option 002
Multistream
Up to 8 streams simultaneous testing
MU909060Ax-002
Option 003
Stacked VLAN
Up to 3 levels tagged VLAN support
MU909060Ax-003
Option 004
MPLS
Up to 3 MPLS labels support
MU909060Ax-004
Option 005
Remote GUI
Controlling MT9090A via Web browser.
Requires J1480A USB-Ethernet Converter to connect MT9090A to
management Ethernet network
MU909060Ax-005
Option 006
Channel Stats
Analyzing error streams, top talkers, network attacks
MU909060Ax-006
Option 007
Y.1564 Test
New methodology to reduce testing time
MU909060Ax-007
SFP
1000 M SX
1000 Mbps SX SFP
[850 nm multimode, LC connector]
G0240A
SFP
1000 M LX
1000 Mbps LX SFP
[1310 nm single mode, LC connector]
G0241A
SFP
1000 M ZX
1000 Mbps ZX SFP
[1550 nm single mode, LC connector]
G0242A
SFP
100 M FX
100 Mbps FX SFP
[1310 nm multimode, LC connector]
G0243A
SFP
100 M LX
100 Mbps LX SFP
[1310 nm single mode, LC connector]
G0244A
SFP
10/100/1000 M
Electrical
10/100/1000 Mbps RJ-45 SFP (electrical)
G0246A