Mettler Toledo ME303E 精密天平 (320g, 0.001 g)
Manufacturer: Mettler Toledo- Switzerland
Model: ME303E
Order No.: 30029096
Warranty: 12 months
Maximum Capacity: 320 g
Readability: 1 mg
Interfaces RS232
Adjustment: External
Legal for Trade: No
Weighing Pan Diameter: 120 mm
Repeatability Low Load (typical): 0.7 mg
Settling Time: 1.5 s
Repeatability (Test Weight): 0.001 g (100 g)
Minimum Weight (USP, 0.1%, typical): 1.4 g
Linearity: 50 g
Linearity: ± 0.002 g
Display: Backlit LCD
Dimensions (DxHxW): 319 mm x 289 mm x 210 mm
Housing: Die-cast aluminium, plastic ABS
Linearity Typical: ± 0.6 mg
Temperature accuracy: (±) 3 ppm/°C
Resolution: 1 mg
Hygienic Design: Yes
Precision Balance ME303E
Easy, Efficient and Functional.
Balance for your essential needs: 320 g capacity, 1 mg readability, backlit LCD, external adjustment, metal base
Designed to Last
Laboratory balances built to last. The solid construction and high-quality materials ensure you can rely on accurate results for many years to come.
Simply Reliable
State-of-the-art weighing technology ensures stable and accurate results which are easy to read thanks to a large backlit display.
Efficient Operation
The easy-to-use interface enables direct access to applications. Coupled with easy cleaning, your daily tasks are fast and efficient.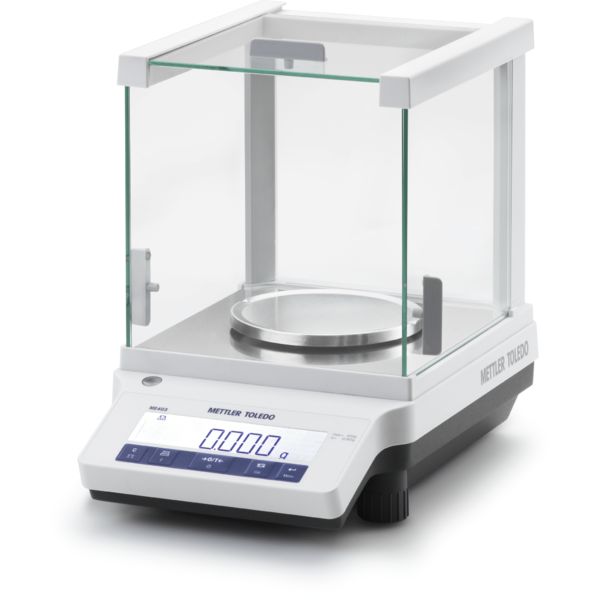 Bright display is easy to read
The large numbers on the bright backlit display are easy to read in all working environments.

Time stamp helps ensure traceability
With the built-in function, you can add the date and time to your results in accordance with ISO/GLP documentation requirements.

Datasheet